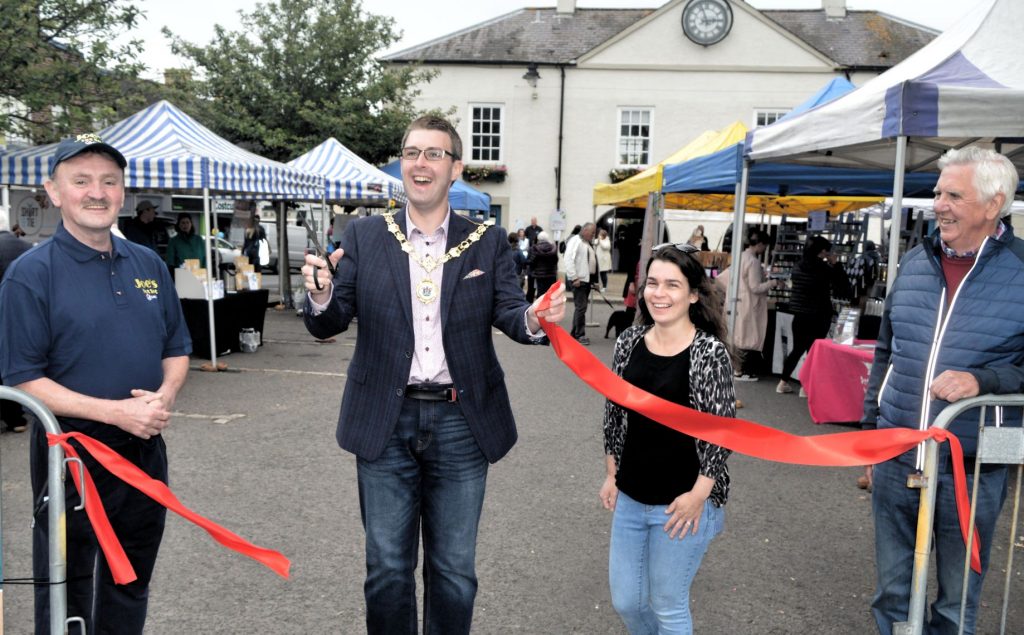 It was a very welcome return to business for the Market on the Square in Portaferry on Saturday 3 July after 18 months and it didn't disappoint! Large numbers of residents and visitors took advantage of the fabulous array of local produce and craft makers showing their wares and having a good time with the childrens free craft activity and a great play list by John McMullan kept the shoppers entertained!
Tilly, the balloon modeller were kept busy creating magical creatures for all the little ones to emulate the amazing lobsters being prepared on O'Neill's of Strangford Lough stall, while the delicious goodies from Sprinkles & Crumbs, Mange Tout, and Peninsula Kelp Co were snapped up by eager shoppers. The Urban Community Chef and Gayanne (from Georgia) were showcasing a Georgian traditional delicious Khachapuri bread which went down a treat with everyone!
When a coffee fix was needed we had a great choice as Pete and Claire from 'Paws for Coffee' were full steam ahead with their hot drinks whereas AP from Nitro Coffee had a great set up with his cold brew on tap and for those who wanted the raw ingredients then the hand roasted coffee beans by Shirt & Tie, teamed up with a Wee Choco fix – a great take home treat for anyone!
Beautiful plants and shrubs adorned the market and Ivan from Ballyhenry Baskets & Blooms was on hand to offer hints and tips on how best to achieve the perfect blooms this summer. With many staycation visitors from across NI and beyond visiting Portaferry the local Visitor Information Service was on hand to offer great ideas to  keep all the family entertained around Strangford Lough and the wider Ards & North Down Borough.
It was a pleasure to welcome the Deputy Mayor of Ards and North Down, Councillor Robert Adair, who said, "I was delighted to officially reopen the Market on the Square. This popular Market started in 2018 and is based from Portaferry's beautifully restored Market House. The area is renowned for its talented art, craft and food producers, so it is in the perfect location to showcase the very best that local traders have to offer. There is a wide variety of traders, each offering unique treasures and produce, and I encourage everyone to support our local traders and visit the Market on the first Saturday of the month."
The Deputy Mayor enjoyed the market and spoke with many traders, locals and visitors and as the Upper Ards is steeped in the creative arts, it wasn't surprising to see so many fabulous craft makers host their businesses and chat to eager shoppers who wouldn't find these beautiful hand crafted pieces on the high street, which always makes our market that little bit special! A blissful Blend, Belfast Candle Company, Pretty Crafty Ceramics, Little Things by Gillian, Tidal Treasures, LG Jewellery, Tansy Craft, and Made with Love by MJB didn't disappoint as there was a constant buzz at their stalls.
For that indulgent treat the multi award winning Echlinville Distillery were showcasing their linen inspired 'Weavers Irish Gin' which as Haley Sloan described as "Crisp, cool and clean as the linen it is inspired by."
Chairman of Portaferry Regeneration, John Dumigan commented, "It's great to have the market up. and running again and to see so many supporting both the market traders and the local businesses. This event is a great opportunity to showcase the amazing producers and makers and of course highlight picturesque Portaferry and Strangford Lough with all it has to offer".
If you've missed out this time, don't worry as we'll be doing all again on Saturday 7 August and the first Saturday of each month, through to December and we look forward to welcoming you!